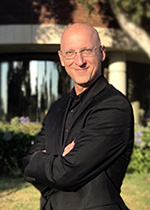 Dr. John E. Taylor
Director
JT is the Frederick Law Olmsted Professor in the School of Civil and Environmental Engineering at Georgia Tech where he is Director of the Network Dynamics Lab. He specializes in investigating engineering network dynamics of industrial and societal importance. His current research focuses on; (1) achieving sustained energy conservation by coupling energy use with occupant networks and examining inter-building network phenomena in cities, and (2) understanding and improving response times by affected human networks during extreme events in urban areas. His research extends from developing virtual and augmented reality applications to collect and visualize urban scale data, to developing real-time interventions to improve urban sustainability and resilience. JT enjoys hanging out with his daughters, traveling and photographing the world, reading, running, and collecting/creating art.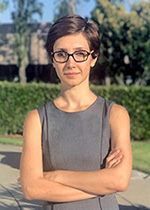 Dr. Neda Madi
City Infrastructure Analytics Director
Neda is a Postdoctoral Fellow in the School of Civil and Environmental Engineering at Georgia Tech. She holds a PhD in Civil Engineering from Virginia Tech, where she studied the dynamic interrelationships between space-time fluctuations of human mobility and energy use in urban areas. Her primary research applies the concept of spatiotemporal flux to investigating the fluctuating phenomena in city infrastructure systems, linked by an underlying influence from the human population. She focuses on understanding and quantifying the effects that can inform and affect positive change in such systems.
Abby Francisco
PhD Student
Abby is a PhD student in the School of Civil and Environmental Engineering at Georgia Tech. She received her BS in Civil Engineering from Clemson University with a minor in Environmental Engineering. After graduation, she worked for Southface Energy Institute in Atlanta performing building energy assessments and researching building technologies. Her research interests involve urban sustainability, building occupant networks, and data visualization. In her spare time she enjoys rock climbing, cooking, documentaries, and exploring new places.
Chel Samuels
PhD Student
Chel is a PhD student within the School of Civil and Environmental Engineering at Georgia Tech. She received her BS in Geology and Business Administration from Washington and Lee University in 2015. Degree in hand, she left the Blue Ridge Mountains to work for two years as an environmental scientist for AECOM. Her work in soil and groundwater remediation there inspired her to return to school to work towards characterizing and improving the relationships between industry, policy, and society with regard to environmental remediation and developing technology. Outside of research, she enjoys weight lifting, hiking, and crafting elaborate costumes and props.
Lei Xu
PhD Student
Lei is a PhD student in the School of Civil and Environmental Engineering at Georgia Tech. She earned her BS degree in Building Environment and Facilities Engineering and MS degree in Heat, Gas Supply, Ventilating and Air Conditioning Engineering at Tongji University. Her research works mainly focused on building energy efficiency and occupant behavior simulation. She is interested in occupants' interactions with building systems. She enjoys cooking, reading and hiking in her spare time.
Ambuz Vimal
Post-Masters Researcher
Ambuz Vimal completed his Master's degree in the School of Electrical and Computer Engineering at Georgia Tech in Fall 2018. He received his Bachelors of Technology degree in Electronics and Communication Engineering at Indian Institute of Information Technology Allahabad in India. Ambuz is passionate about creating Virtual Reality/Augmented Reality experiences and Video Games and, in the Lab, is designing and developing an Internet-of-Things integrated virtual environment for visual analytics of resource consumption across infrastructure systems. He enjoys playing soccer, video games, and watching quiz shows and documentaries in his spare time.
Pragadeesh Muthah
Masters Student
Pragadeesh is a graduate student in the School of Civil and Environmental Engineering at Georgia Tech with a concentration in Construction and Infrastructure Systems Engineering. He received his Bachelor of Technology degree in Civil Engineering from the Indian Institute of Technology Madras in India. During his undergraduate studies he worked on prototyping an automated construction system. At present, he is working on community scale sensor integration to enable real-time data flows in a digital twin model of the City of Atlanta. In his spare time, he enjoys badminton, cooking, graphic designing, and traveling.
Harish Kamath
Undergraduate Student
Harish is a second-year double majoring in Computer Science and Discrete Math at Georgia Tech. He has two threads (concentrations) in Intelligence and Systems Architecture, and hopes to enter the field of interactive intelligence and data manipulation when he graduates. He is particularly interested in using new technologies to make data more approachable, and easy to interact with. Off the screen, Harish is part of a dance team, loves playing chess, and regularly runs and plays intramural basketball at Tech.
Atticus Lemahieu
Undergraduate Student
Atticus is a second year Environmental and Social Justice undergraduate student at Georgia Tech. He has been working at Serve Learn Sustain for the last year to help bring more of a social and community relations aspect into the sustainability conversation. Additionally, Atticus is a Millenium Fellow with the United Nations and is working with a group of other driven students to develop the RCE Atlanta Youth Network. Atticus hopes to see the network connect students and clubs from Metro Atlanta universities/colleges to sustainability based projects, organizations, and Atlanta based efforts. Lastly, Atticus is a member of the GT Engineers Without Borders Uganda Water Supply Program where he gets to use many of the skills learned in the classroom and from work to a real-world setting. In his spare time, he enjoys learning new things and spending time with friends and family.
Sami Rahman
Undergraduate Student
Sami is a second year Computer Science undergraduate student at Georgia Tech. His concentrations are in people and intelligence with which he would like to automate the betterment of peoples' lives. He is fond of volunteering, especially at hospitals, is highly interested in philosophy and literature, and loves playing with Cheeto Puff, his cat.