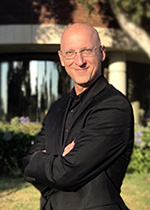 Dr. John E. Taylor
Director
JT is the Frederick Law Olmsted Professor in the School of Civil and Environmental Engineering at Georgia Tech where he is Director of the Network Dynamics Lab. He specializes in investigating engineering network dynamics of industrial and societal importance. His current research focuses on; (1) achieving sustained energy conservation by coupling energy use with occupant networks and examining inter-building network phenomena in cities, and (2) understanding and improving response times by affected human networks during extreme events in urban areas. His research extends from developing virtual and augmented reality applications to collect and visualize urban scale data, to developing real-time interventions to improve urban sustainability and resilience. JT enjoys hanging out with his daughters, traveling and photographing the world, reading, running, cycling, and collecting/creating art.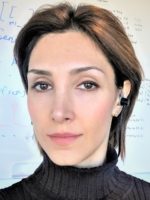 Dr. Neda Madi
City Infrastructure Analytics Director
Neda is research faculty in the School of Civil and Environmental Engineering at Georgia Tech, and currently the City Infrastructure Analytics Director in the Network Dynamics Lab at Georgia Tech. She holds a PhD in Civil Engineering from Virginia Tech, where she studied the dynamic interrelationships between space-time fluctuations of human mobility and energy use in urban areas. Her primary research is in the area of city infrastructure systems with a focus on human-infrastructure system interactions. She primarily explores the complexities of evolving human-infrastructure interrelationships and their space-time fluctuations to quantify, explain, predict, and enhance urban dynamics towards sustainable urbanization.

Christin Salley
PhD Student
Christin is a PhD student in the School of Civil and Environmental Engineering at Georgia Tech. She received her BS in Fire Protection Engineering, along with a certification and citation in Science, Technology, and Society from the University of Maryland in 2019. She received her MSE in Civil Engineering from The Johns Hopkins University in 2020. Christin's research is at the intersection of social media, infrastructure systems, and disaster response. She is also personally passionate about pathways of engineering (investigating pursuits of engineering at different educational levels) and desires to train, mentor, and teach the next generation of engineers while conducting research that benefits various communities. In her free time, she enjoys spending time with family and friends, traveling, and trying new restaurants.
Xiyu Pan
PhD Student
Xiyu is a PhD student in the School of Civil and Environmental Engineering at Georgia Tech. He received his BE degree in Construction Management at Chongqing University and MS degree in management at Tongji University. Xiyu's research vision is to improve human well-being in buildings and cities. He is interested in utilizing the smart city digital twin, crowd simulation, optimization, and other quantitative methods to develop technical solutions to city problems. In his free time, he enjoys spending time with his cat, Panda, drinking bubble tea, and trying nice restaurants.
Michael Thomas
PhD Student
Michael is a PhD student in the Computational Science and Engineering program focusing on Civil and Environmental Engineering. Michael completed a BS in Mathematics from Kennesaw State University and an MS in Biostatistics from Drexel University. Michael's work has focused on collaborating with state and city governments to describe public health issues ranging from the health of populations with disabilities to disease surveillance. His primary research interests include leveraging quantitative methods and multiple data sources to characterize public health phenomena. When not scratching his head in front of a computer, Michael can be found running, eating popcorn, or starting short-lived book clubs.
Jiajia Xie
PhD Student
Jiajia is a PhD student in the Computational Science and Engineering program with a focus on network science and computational modeling. He received an MS in Computational Science and Engineering from the school of ISyE at Georgia Tech and a BS in Economics from Presbyterian College. His research focuses on development of smart city digital twin systems that ingest real time data and the associated analytics to improve urban sustainability and resilience. In his spare time, he enjoys cooking, basketball, and trips for food.
Lei Xu
PhD Student
Lei is a PhD student in the School of Civil and Environmental Engineering at Georgia Tech. She earned her BS degree in Building Environment and Facilities Engineering and MS degree in Heat, Gas Supply, Ventilating and Air Conditioning Engineering at Tongji University. Her research works mainly focused on building energy efficiency and occupant behavior simulation. She is interested in occupants' interactions with building systems. She enjoys cooking, reading and hiking in her spare time.
Mathias Bermeo
Masters Student
Mathias is a first-year master's student in the CEE program at Georgia Tech. Mathias completed a BS in Civil Engineering with a concentration in structures and a Certificate in Entrepreneurship & Innovation from Purdue University. He is an Honorary Fellow of the Belgian American Education Foundation. He is interested in the application of new technologies and methods in the construction industry and seeks to explore social, environmental and economic effects in the lifecycle of constructed facilities. Outside of his studies, Mathias enjoys playing chess, listening to classical music and spending time outdoors.
Maithly Bishnoi
Masters Student
Maithly is a master's student in Civil Engineering with a major in Construction Engineering Management. She has completed her bachelor's degree in Civil and Environmental Engineering with a concentration in Construction project management and Environmental engineering. Her research interest is in engineering and project management in the construction industry which includes learning about the impact of emerging technologies in this field. She is also interested in methods that can be used for sustainable and energy-efficient construction. She continuously tries to learn and implement new skills involving engineering and management principles for designing, developing, and implementing technical systems and processes during her time at Georgia Tech. In her free time, she likes to cook, dance, work on digital and black & white photography, try out different restaurants and read. She is currently reading Harry Potter!
Donald Gee
Masters Student
Donald Gee is a student in the Masters of Sustainability, Energy and Environmental Management program and a Stamps Presidential Scholar at Georgia Tech. He graduated with a degree in Civil Engineering from Georgia Tech in the Spring of 2022. His current research is focused on a Digital Twin-based Framework for Development of Schools as Smart & Connected Community Resilience Hubs. Outside of school he is also a musician and comedian.
Chenyu Li
Masters Student
Chenyu is a master's student in the Geographic Information Science & Technology program in the School of City & Regional Planning. She earned her BS degree in Geographic Information Science with a concentration in Remote Sensing at Sun Yat-sen University. Chenyu is interested in how to improve construction planning with multi-dimensional data, and the simulation and analysis of urban incidence using spatial data in virtual reality. Her research focuses on digital twins, GIS system building and management, and urban analytics with spatial data. She enjoys traveling, watching movies, and eating donuts in her free time.
Nidhi Sonar
Masters Student
Nidhi is an MS student in the School of Civil and Environmental Engineering at Georgia Tech. She received her B.Tech degree in Civil Engineering from Sardar Patel College of Engineering, University of Mumbai. Nidhi's research is focused on integrating a psychological perspective in the research design of smart city digital twins while investigating techniques to validate the findings of the project. Her goal is to reinforce the importance of psychology in the design and construction sphere that will enable further research to have a humanistic rationale. In her free time, she likes to Netflix and Chill, read and explore new places.
Hoang Ly
Undergraduate Student
Hoang Ly is an undergrad civil engineering student minoring in chemistry, in the BS/MS program for environmental engineering, and a 2020 UN Millennium Fellow. He was the UG researcher on our Smart Uptown project to develop a Smart City Digital Twin of Columbus, GA, and is starting the Smart Sustainable Cities Club at GT this fall. He is currently researching connected job site technologies and asset management systems with Shadow Ventures in conjunction with Bosch. In his free time, Hoang enjoys hiking, mountain biking, and cycling.